Les lundi 7 et mardi 8 septembre, la manifestation internationale FOWT est en présentielle et en ligne. Le mercredi 9 septembre est une journée une "Online academic session"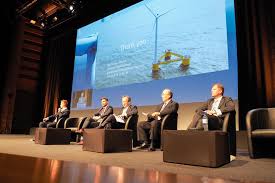 Pour s'inscire https://fowt2020.b2match.io/signup
You have a special request ? Feel free to contact : Emmelyne BROUHANE
brouhane@polemermediterranee.com +33 6.40.92.57.60
Nouvelle formule : Initialement prévue du 22 au 2 avril, FOWT2020 se tiendra les 7 et 8 septembre 2020 au Palais du Pharo de Marseille avec les mesures sanitaires les plus élevées et sera également 100% accessible en ligne en direct ou en mode replay dans le monde entier.
Lundi 7 septembre 2020
Journée 1 - Accueil – Accueil 8h30 – 9h00
08:30 - 09:30 Discours d'ouverture
09:00 - 09:15
9h00 – Discours d'ouverture Commercial-scale readiness : latest lessons learned from existing floating offshore projects (digitalization, O&M, scalability, cost-reduction, etc.)
09:15 - 10:40
The journey of a floating wind leader
Commercial readiness: From Risk mitigation at all steps of the project life to coping with the Floating Offshore Wind "Market" reality
Nicolas Boutin - Principle Power
How the pilot farm snake & ladder game can bring us to the way of commercial successful?
From demonstrator projects to commercial scale success – a WTG OEM's contribution
Albert WINNEMULLER - MHI Vestas
From demonstrators to pilot projects and commercial arrays : achieving investors' confidence, promoting local development and meeting cost reduction expectations
Pause financée par les Régions Sud Provence-Alpes-Côte d'Azur, Occitanie/Pyrénées, Bretagne et Pays de la Loire
10:40 - 11:00
11h00 - Public policies supporting floating offshore wind, Atelier animé par Giles Dickson, CEO, Wind Europe
11:00 - 12:30
Presentation
Laurent MICHEL - Ministère de la Transition Ecologique et Solidaire
Presentation
Bjorn Haugstad TILLER - Norwegian Ministry of Petroleum and Energy
Presentation
Yuenfan Cheung - British Department for Business, Energy & Industrial Strategy
Presentation
Director Ocean Development and Environment Policy Division Maritime Bureau - Ministry of Land, Infrastructure and Transportation (MLIT)
Presentation
Representative of California - USA - To be confirmed
12h30 - Cocktail déjeunatoire sponsorisé par EnBW Valeco
12:30 - 13:45
13h30 - Innovations in grid and electrical connections : electricity transmission and multiple uses, Atelier animé par Alfredo Parres, Group Senior Vice President at ABB
13:45 - 15:15
LISORE, a cooperative R&D project to pave the way towards sustainable innovation in offshore substations
Title to be confirmed
Philippe Monbet - Pôle Mer Bretagne Atlantique
Presentation
Available on-shore infrastructure impact on FOW design, industrialization and execution; A case study considering a semi-submersible floater
Per Kristian Bruun - Aker solutions
15h15 - Pause
15:15 - 15:45
15h45 - Floating offshore wind : a WIN/WIN deal for the environment ?
Atelier animé par David Pratt, Marine Scotland
15:45 - 17:15
SEM-REV environmental monitoring program. Feedback on FloatGen demonstrator
Marine Reynaud - Centrale Nantes
Improving our knowledge of the marine environment through the installation of floating offshore wind turbines : the example of Provence Grand Large
Philippe Veyan - EDF Renouvelables
Optimisation of floating wind ecosystem services – interactions with marine resources and environment positive effects
UICN's views on floating offshore wind commercial deployment
Speaker name to be confirmed - UICN
18h00 - Gala dinner sponsorisé par Eolfi
Mardi 8 septembre 2020
09h00 - Accueil
09:30 - 11:00 Floating offshore wind : an onshore matter? Harbour infrastructures and on-shore solutions supporting commercial -scale FOW deployment
Atelier animé par Dorothy Winters, Vice-chairman of the offshore wind ports platform and Regional Programme manager Offshore Wind, Port of Amsterdam
UK port infrastructure suitability assessment and gap analysis for floating wind commercial scale deployments Kate Johannesen - Xodus Group Limited
Scalability, serial production and adaptability: triptych for a successful industrialisation of floating offshore wind at a global scale Laurent Schneider Maunoury - Naval Energies
Challenges for large scale fabrication and logistics of floating wind based on case studies Denis Matha - Ramboll
Title to be confirmed Stéphane Reiche - Port of Marseille Fos
11h00 Pause
11:30 - 13:00 - Supply-chain readiness and innovations in methods and key components (not floating concepts) paving the way to serial production and competitive LCoE, Atelier animé par Dan Kyle Spearman, The Carbon Trust
Innovative development of Platform Mooring Connectors designed specifically for Floating Offshore Wind Foundations Greg Campbell - Smith - First Subsea Limited
Innovative synthetic fibre components in FOWT mooring
Timothy Hunter - Bridon Bekaert
Pre-commercial development : Multiple floating wind turbines - Key Lessons from an installation point of view Patrick Belenfant - Bourbon Subsea
Prospects of Lidar-assisted FOWT control and real-time monitoring Frank Lemmer - Sowento GmBH
Presentation
A leading Japanese construction and civil works company
13h00 Cocktail déjeunatoire
14:30 - 16:00 Financing and insuring commercial-scale wind farms : a steadily growing appetite, Atelier animé par Keegan Kruger, Macquarie Capital
Technical risks preventing bankability of floating projects
Update: financing of FOWT in light of Japan's new general Sea Law
Yuichiro Yamaguchi - Development Bank of Japan
Structuring commercial debt for floating offshore wind farms
Sybille Grandgeorge - Natixis, Industry Banker Power & Renewables Natixis
The Identification and Mitigation of Risks inherent to Floating Wind: A Way to Project Bankability Corentin Thepaut - Mott MacDonald
Presentation title to be confirmed Jérôme Guillet - Green Giraffe
16h00 Pause
16h30 - New geographies, new application : the full potential of FOW, Atelier animé par Bruno Geschier, Chairman of the floating offshore wind taskforce at the World Forum Offshore wind (WFO).
Unlocking the ocean potential with floating offshore wind: opportunities and challenges of the off-grid market
Ambroise Wattez - SBM Offshore
Mooring in shallow water – A challenging low-hanging fruit? Case study & Technical opportunities
Offshore production of hydrogen or ammonia from dedicated wind farm Jérôme Legendre - KBR
Presentation Jesper Møller - Siemens Gamesa Renewable Energy
18h00 – 19h00 Developers and utilities: how to become a leader in FOW, Atelier animé par The French Wind Energy Association
Presentation Catrin Jung-Draschil - Vattenfall
Presentation Grzegorz Gorski - Engie
Presentation Sebastian Bringsvaerd - Equinor
Mercredi 9 septembre 2020
How collaborative R&D contributes to reliability and performance of FOWT? Atelier animé par Christian Berhault, consultant FEM
09:00 - 10:15
Development of an innovative Single Point Mooring System to reduce the LCoE of Floating Offshore Wind
Added values of European initiatives supporting large experimental tests facilities : Marinet2, Foresea, OceanDemo, marinerg-i – a typical example with the SEM-REV sea tests site
Izan LE CROM - Centrale Nantes
STEP4Wind: Bridging the gap between academic research and industrial development of floating offshore wind farms
Axelle VIRE - Delft University of Technology
Communicating and engaging with stakeholders on innovations in methods and key components through research landscape mapping
Professor Deborah Greaves - University of Plymouth
Taking into account marine growth both at design steps and during exploitation
Franck Schoefs - University of Nantes
Guillaume Damblans - France Energies Marines
Evolution of design methods and rules to optimize performance versus reliability - Atelier animé par Sandrine Aubrun, Centrale Nantes
10:15 - 11:30
A new approach for the prediction of the non-linear hydro-elastic behavior of large floating wind turbines
Vincent LEROY - Centrale Nantes
FOWT Model Testing and Validation – Recommendations
Kimon Argyriadis - DNV GL - Energy, Renewables Certification
Innovative design approaches applied to the TetraSpar Demo Project to be deployed early 2020
Mooring Anchor Design A Holistic Approach
Gibson FRASER - Ryder Geotechnical
Case Study: Using AXYS FLiDAR® Metocean measurements to reduce cost of finance for offshore wind projects
Mrs. PS Reilly - Axys Technologies
Satellite observations for better characterization of sea surface wind field and resource assessment in coastal regions
Pause
11:30 - 11:50
How innovative technologies could optimize LCOE?
11:50 - 13:05
DRYM, a 66kV dry mate connector to optimize O&M strategy and increase availability of commercial floating wind farm
Mathieu Priser - Naval Energies
Proven and cost effective cable protection systems for Floating Offshore Wind
Greg Campbell - Smith - First Subsea Limited
Polymer springs for enabling high modulus synthetic fibre mooring solutions for deep water FOWT
Dr. Paul Mc Evoy - Technology From Ideas
The benefits of a smart & innovative controller solution for floating offshore wind farms
A Conceptual Design of Smart Spar FOWT applied for the 1 GW Floating Offshore Wind Farm, East Sea, Ulsan, Korea
Hyunkyoung SHIN - University of Ulsan
Le site de presse en ligne energiesdelamer.eu est partenaire media de FOWT2020.
N'oubliez pas de consulter et/ou d'acheter le trimestriel MerVeille Energie #1 paru en juin 2019 "Bilan et Prospectives 2020" et le numéro dédié à l'éolien flottant publié en avril 2019.
MerVeille Energie #3 sera au rendez-vous avec un "panorama des événements 2019 et 2020 et les Prospectives 2021".