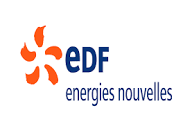 France – Monday 16/04/2018 – Since April 12th 2018 in order to support its expansion in the international renewable energy market, EDF Energies Nouvelles is bolstering its corporate identity through EDF Renewables, the brand for all its international subsidiaries.
In line with the EDF Group's goal of doubling its renewable energy capacity in France and worldwide by 2030, EDF Energies Nouvelles continues to expand in its core markets – France, Europe and North America – and into markets with a high development potential, such as South America, Asia and the Middle East. EDF Energies Nouvelles develops and operates wind, solar and energy storage projects in around 20 countries.
The new corporate identity for EDF Energies Nouvelles' international subsidiaries** reflects its status as a global leader in the renewable energies market.
"With the worldwide priority to tackle global warming, it seems crucial for us to raise the visibility of our international business by establishing a strong brand name consistent with the EDF Group's strategic goal of being a major player in the energy transition. By switching to an harmonized international brand, we reinforce our corporate culture and our common commitment across all our subsidiaries", commented Antoine Cahuzac, Group Executive Director in charge of Renewable Energies and Chairman-Chief Executive of EDF Energies Nouvelles.