ICOE IS SUPPORTED BY THE INTERNATIONAL ENERGY AGENCY (IEA) THROUGH OCEAN ENERGY SYSTEMS (OES)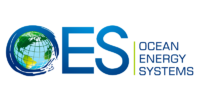 La rédaction et des experts du portail de veille internationale et d'actualités
seront présents du 12 au 14 juin.
Held every two years since 2006, ICOE aims at gathering stakeholders from the sector of ocean energies (tidal, wave, salinity gradient, ocean thermal energies) and sharing the most recent experiences on research, technology transfer efforts and technological demonstration.
The purpose of the event is to accelerate development by stimulating collaboration between companies, researchers and development centres. It also targets engagement of operators with experience in related marine and power industry sectors.
Organised in 2018 by BlueSign in partnership with the Normandy region, Manche Department, Le Cotentin Communauté d'Agglomération and Cherbourg-en-Cotentin, ICOE will be held in Cherbourg, Normandy, from june 12th to 14th in La Cité de la Mer.